Variable Data Swing Tickets & Swing Tags
We understand the importance of clear and consistent messaging, and variable data swing tags can represent the most complex type of garment packaging
Variable data swing tickets are often the first thing a shopper looks for when browsing garments in-store, and without clear and easily accessible information on an item's price, size and other variables, they are unlikely to ever reach the fitting rooms.
The information shared on variable data swing tags may change regularly, but ABS's commitment to quality is constant. Thanks to our many years of experience in the garment industry, you can rest assured that all the relevant information is exactly where it should be, so you can give your undivided attention to the production of quality garments.
Data integrity is one of the most important qualities of variable data ticketing, and we have the ability to create online data solutions that can alleviate manual intervention. We work hard to provide the perfect answer to each of our clients' unique garment accessories needs, using all our industry expertise gained through nearly 12 years in the business. It all comes down to what suits your brand best, and here at ABS we work closely with our customers to find out what they need from their swing tags.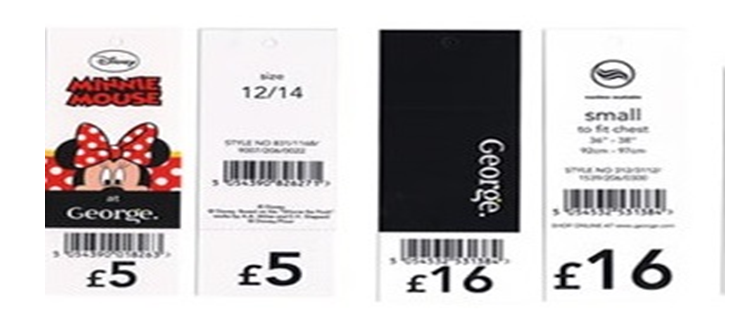 Why is ABS the best supplier of variable data swing tickets?
ABS can offer a choice of technologiesthat integrate item-specific variable information, such as barcodes, RFID and completely unique solutions tailor-made for individual clients. We can produce garment accessories that work with the latest in-store technology to increase supply chain efficiency, advance security measures and improve customer service.
ABS can take on any challengeto create the perfect variable data swing ticket, bringing together innovative designs, formats and technologies to complement your unique brand values. We work with clients to tailor products to a certain price, providing options to suit every budget.
We can provide a helping handif your brand needs any assistance in creating artwork, developing ideas or dealing with the costs of garment packaging orders. Many budget retailers use variable data swing tags as the most practical labelling solution based on cost and ease of production. However, luxury retailers often prefer to produce separate variable data stickers or swing tags to complement branded graphic swing tickets. We treat every customer on an individual basis, taking into account the brand's unique needs, budgets and ambitions.